Bush tax cuts: Could liberal Democrats block Obama's compromise?
(Read article summary)
Democrats have the votes to block the president's compromise with Republicans on extending the Bush tax cuts. But many might have to accept that with Republicans set to gain more power in Congress next year, this is the best deal they're likely to get.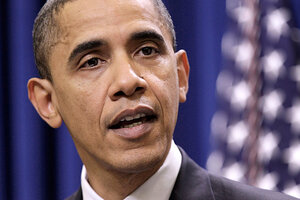 J. Scott Applewhite/AP
Liberal Democrats aren't happy that President Obama has agreed to the framework of a deal with congressional Republicans to extend Bush-era tax cuts for ratepayers of all income levels, including the rich.
It's true that the administration would get something back from this deal that's important to many Democrats: extension of government aid for the long-term unemployed. But prior to the recent midterm elections Mr. Obama campaigned hard on limiting tax cuts to those making $250,000 a year or less. Some liberals think now that he's just caving on the tax issue without putting up a fight.
"This is a direct betrayal of a core Obama campaign promise, and the essence of political malpractice and negotiating incompetence," said Adam Green, co-founder of the Progressive Change Campaign Committee, in a statement.
The intraparty animus on this issue is such that in announcing the deal on Monday evening, Obama at times sounded as if he were arguing with the spirit of the late Edward Kennedy. He said that he knew many Democrats would prefer to prolong this battle rather than give in now. But "the American people did not send us here to wage symbolic battles or win symbolic victories," said Obama.
Republicans are adamant about extending tax cuts for the wealthy, he said, and any partisan warfare on the issue would easily run into next year, resulting in the expiration of the tax cuts for everyone, and ending long-term unemployment aid for millions of Americans.
"These are not abstract fights for the families that are impacted," said Obama.
---