President Obama on 'Mythbusters': Will his death ray work?
(Read article summary)
President Obama's episode of Mythusters, aimed at getting teens interested in science and math, airs Wednesday night on the Discovery Channel.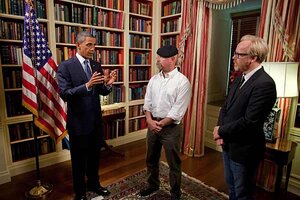 Courtesy of Discovery Channel
Tonight's the big night – President Obama is appearing on Mythbusters! That's the long-running Discovery Channel show which tests common myths and legends, such as, if you're the Green Hornet, and you and your car the Black Beauty are buried alive in a giant grave, can you escape by igniting the car's rockets and blowing yourself out of the dirt-packed hole?
(No, we didn't study that legend in school either. It's a scene from an upcoming movie, but the Mythbusters gang is going to test its plausibility anyway – they're always looking for excuses to set off big explosions.)
Sadly, Obama himself will not get a chance to blow anything up. He's already acknowledged that. He will get a chance to order hundreds of people to try and burn things with giant imitation death rays, however. That sounds like a lot more fun than talking to Nancy Pelosi about why she hates the Bush tax cut compromise.
The set-up is this: on the show, Obama invites Mythbusters-in-chief Jamie Hyneman and Adam Savage into the White House library to give them a "viewer challenge." (Mr. Hyneman is the one who looks like a member of Delta Force – Walrus Division. Mr. Savage resembles a middle school science teacher gone rogue.)
---
Follow Stories Like This
Get the Monitor stories you care about delivered to your inbox.