Obama's role at Tucson memorial service tonight: healer-in-chief
(Read article summary)
At Tucson memorial service Wednesday, Obama shoulders the duty of trying help a shaken nation heal. After the apparent targeting of a US congresswoman, what will he say? What should he say?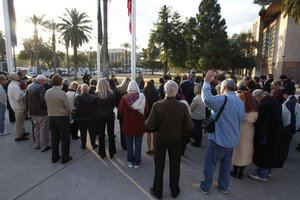 Matt Sullivan/Reuters
President Obama on Wednesday travels to Tucson, Ariz., to shoulder a sad responsibility: serving as healer-in-chief of the United States.
It is a responsibility that too many of his predecessors had to shoulder during their own terms. When assassins strike, or a space shuttle explodes, or terrorists attack the nation, voters look to the White House to honor the victims of the tragedy and to try to explain how strength can be drawn from grief.
Now it is Mr. Obama's turn as he speaks Wednesday night from the city where a mass shooting left six dead, a congresswoman gravely injured, and the nation shaken.
RELATED: Arizona shooting suspect Jared Loughner: 5 of his strange ideas
"Every person in the city of Tucson – and I trust in the state and the nation – recognizes the importance of the president of the United States coming to help us pray and heal from this [terrible] tragedy," said Tucson Mayor Bob Walkup on Wednesday.
---