Is Gov. Scott Walker's offer enough for a deal with rogue 'Wisconsin 14'?
(Read article summary)
Governor Walker has released emails with some of the absentee 'Wisconsin 14' that show he's willing to compromise – on some issues, to some extent.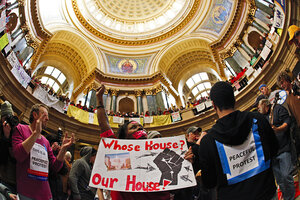 Andy Manis / AP / File
Wisconsin Gov. Scott Walker has said for weeks that he's not willing to budge on the parts of his budget bill that would strip most Badger State public unions of their collective bargaining power. But now it turns out that's not entirely true – he is willing to compromise, after all. Is he giving up enough so that Wisconsin's union standoff can be settled via a deal?
Let's examine possible answers to that question by going to the emails (pdf).
First, a little background. On Tuesday, Governor Walker released to the Milwaukee Journal-Sentinel a chain of emails that show he's offered to dial back a bit on his anti-union efforts. The emails were sent to some of the "Wisconsin 14" – the Democratic state senators who have fled to Illinois to block a vote on this whole thing.
---