Donald Trump: Genuine 'birther' or just furthering his personal brand?
(Read article summary)
Donald Trump has apparently embraced the 'birther' idea – that President Obama was not born in the US – but his motivation remains unclear.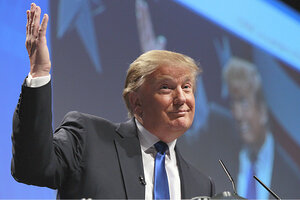 Alex Brandon / AP / File
Is developer/reality show star Donald Trump serious about running for the GOP nomination for president? Or is he just talking about running for president as a personal brand-building exercise?
So that people like us will write articles like this, raising his ubiquity quotient one iota more.
The question arises from Mr. Trump's recent, very public semi-embrace of the birther movement, which holds that President Obama was not born in the United States and thus is not eligible to be president.
On Monday, Trump told Fox News that he was "really concerned" about Obama's citizenship status, and that since he'd first mentioned the subject a few days before on "The View," so many people had called him and told him shocking stuff that "I'm starting to wonder myself whether [Obama] was born in this country."
For the record, Obama's campaign released his birth certificate in 2008. Hawaii's director of health – and numerous other state officials – have attested the document is genuine. Birthers say it's a conspiracy, and the document is a fake.
Trump released his own birth certificate on Monday, proving that he, at least, was born in the good old US of A, on June 14, 1946, in New York City. Though we should point out that to a lot of Republican primary voters in the outlands, New York City might as well be Indonesia.
---