Birth certificate released: Did Donald Trump just school President Obama?
(Read article summary)
President Obama just released his birth certificate – the long form, anyway. Is this a victory for The Donald, or is Team Obama playing a more subtle game?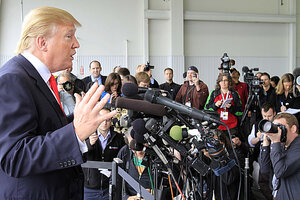 Jim Cole / AP
Did Donald Trump just outmaneuver President Obama on the so-called "birther" issue? It sure looks that way at first glance. In interviews Trump for weeks has been musing about whether the nation's chief executive was really born in America. Now Obama has released a detailed Hawaii birth certificate in an effort to end such questions.
In politics, anytime you force an opponent to react to you, as opposed to talk about what they want to talk about, you've often scored a point. "Winning!" as that unemployed former sitcom actor would say. So in that sense – which admittedly is pretty narrow – Trump may have managed to do something none of the other GOP presidential hopefuls have yet accomplished.
Trump himself seems to feel that way. He was triumphal in an appearance before reporters in New Hampshire just after he'd heard the news.
"I am really honored, frankly, to have played such a big role in hopefully getting rid of this issue," said Trump.
That's adroit – Trump pats himself on the back for raising vague questions about Obama's citizenship, and then runs around to the other side and aligns himself with Obama in terms of let's-move-on-to-more-important-things. No wonder he's doing so well in polls versus other potential Republican candidates.
---