White House Correspondents' Dinner entrée: Trump roast [VIDEO]
(Read article summary)
Donald Trump has been birther-in-chief questioning President Obama's legitimacy to be president. But Obama got his revenge Saturday night at the White House Correspondents' dinner.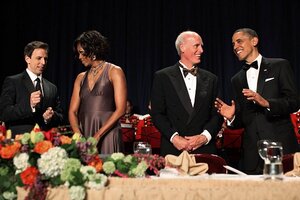 Jason Reed/Reuters
Revenge, they say, is a dish best served cold. But President Obama didn't have to wait long to set out a big helping for Donald Trump at Saturday night's White House Correspondents' Dinner.
The real estate mogul and possible presidential contender, who attended as a guest of The Washington Post, was treated to some zingers by the commander in chief.
Like this: "I know that he's taken some flak lately, but no one is happier, no one is prouder to put this birth certificate matter to rest than The Donald. And that's because he can finally get back to focusing on the issues that matter – like, did we fake the moon landing? What really happened in Roswell? And where are Biggie and Tupac?
And this: "Just recently, in an episode of 'Celebrity Apprentice' at the steakhouse, the men's cooking team did not impress the judges from Omaha Steaks. And there was a lot of blame to go around. But you, Mr. Trump, recognized that the real problem was a lack of leadership. And so ultimately, you didn't blame Lil Jon or Meatloaf. You fired Gary Busey. These are the kind of decisions that would keep me up at night. Well handled, sir. Well handled."
---