Is Cheri Daniels a good 'political wife'?
(Read article summary)
Cheri Daniels, first lady of Indiana, usually keeps a low political profile. But as Gov. Mitch Daniels weighs a presidential run, all eyes will be on her Thursday as she speaks before the state GOP.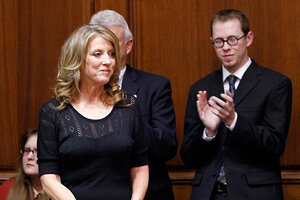 Michael Conroy/AP
Will Indiana Gov. Mitch Daniels (R) run for president?
All eyes will be on his wife, Cheri Daniels, Thursday night for clues when she addresses the spring dinner of the Indiana Republican Party in Indianapolis. Mrs. Daniels doesn't care for politics and usually keeps a low profile. But as her husband considers his political future – and the clamor for him to run grows in influential GOP circles – the Cheri Daniels question looms large.
The trickiest issue is the Daniels' past: As they say on Facebook and in the recent movie about it, "It's complicated." In the 1990s, Cheri Daniels left her husband and their four daughters, ages 8 to 14, moved to California, and married another man. Three years later, she returned to Mitch and their family.
Governor Daniels has discussed the matter publicly only once. "If you like happy endings, you'll love our story," he told the Indianapolis Star in 2004. "Love and the love of children overcame any problems."
---
Follow Stories Like This
Get the Monitor stories you care about delivered to your inbox.