Sarah Palin bus tour: What's the point?
(Read article summary)
Sarah Palin stopped Tuesday at the Civil War battle site in Gettysburg, Pa. Her 'One Nation' bus tour is a type of almost-campaigning that could play to her political advantage. Here's how.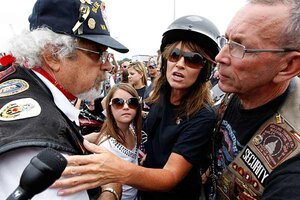 Alex Brandon/AP
Sarah Palin has been spotted: She and her "One Nation" bus tour stopped at the site of the Civil War's pivotal Battle of Gettysburg on Tuesday morning. We know this because her Sarah PAC website now has a nice photo of her gazing over Gettysburg's historic Pennsylvania meadows. It must have been early in the morning, because she doesn't look hot. As Ms. Palin discovered yesterday at Fort McHenry in Baltimore, temperatures in the mid-Atlantic have been hitting 95 degrees by midafternoon.
Where's she going next? We're not really sure. She's not releasing a schedule or telling the "lamestream" press much of anything. But Philadelphia is a likely stop, to see the Liberty Bell and perhaps Independence Hall.
If Palin is not courting press coverage, and doesn't even say where she's bound, what's the point of this bus tour, anyway? It's a slightly odd way to kick off a presidential campaign, if that is what she's doing. But Palin, for all her "Going Rogue" image, has some pretty blue-chip advisers, so we're betting some thought has gone into the bus-tour concept.
---