What's behind Sarah Palin's surprise trip to the Iowa State Fair?
(Read article summary)
Sarah Palin's One Nation bus tour is making a surprise visit to the State Fair in Iowa, where GOP presidential candidates (and the attendant press corps) are gathered for a debate and straw poll.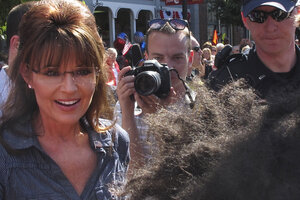 Ryan J. Foley/AP
Sarah Palin and her One Nation bus tour are making a surprise trip to Iowa, if you haven't heard. In an email sent yesterday to supporters of her political action committee she said she's going to "meet folks at the Iowa State Fair in Des Moines this week."
"State fairs hold a special place in our nation's history and heritage, so my family is honored to highlight one of them on one stop along the One Nation Tour route," wrote the ex-governor of Alaska.
Does this mean a President Palin would make the Iowa State Fairgrounds a National Park? Just asking.
Palin also noted that she's excited to try some of the Iowa State Fair's famous fried foods, including fried butter-on-a-stick, fried cheesecake, and so forth. She'll enjoy them "in honor of those who'd rather make us just 'eat our peas,' " noted Palin, in a not-so-veiled reference to President Obama's recent statement comparing the hard choices in a debt deal with legume consumption.
Vegetables aside, we'll say this about that: once again, Sarah Palin has proved that she is the quasi-political attention-getting master of the US media universe.
That's because there just happens to be a debate in Ames, Iowa tonight among declared GOP presidential contenders. A straw poll follows this weekend. So hundreds of political reporters are already in Iowa – pre-positioned for a Palin drive-by. Pure genius.
---