Why are taxpayers funding President Obama's Midwest bus tour?
(Read article summary)
Because, says the White House, Obama is doing his job as chief executive, engaging with the American people. Republicans call the tour a campaign trip, but is it politics or business as usual?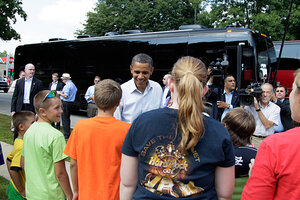 Carolyn Kaster/AP
President Obama this week is hopscotching through politically vital Midwest states on a big black bus and holding town hall meetings on the economy. To the White House, it is business as usual, the sort of national listening tour that sitting chief executives do all the time. But Republican leaders say it's politics, and they say it's something taxpayers shouldn't be forced to fund.
"All he's doing is campaigning. That's what this bus tour is, it's a campaign trip," said Republican National Committee chairman Reince Priebus.
The RNC has thus labeled the trip the "Debt End Bus Tour" and put together a fake press briefing book for the event. They've even taken the little White House logo that's splashed on genuine briefing papers and twisted it so the building looks like it's crumbling.
The tour is "a totally non-political, taxpayer-funded administration event that just happens to criss-cross several battleground states critical to the president's reelection," says the book.
Well, is it? Let's go to the videotape, as the late great Washington, D.C., sportscaster George Michael used to say.
On Monday, Obama stopped at a state park in Cannon Falls, Minnesota to address a crowd. Among other things, he criticized the entire GOP presidential field for its refusal to accept any new taxes as part of any deficit reduction deal.
"I mean, that's just not common sense," he said.
---