$1.1 million bus used by Obama has high-tech defenses – but what are they?
(Read article summary)
$1.1 million bus: the Obama bus is making waves as it travels through the Midwest. But what equipment does a $1.1 million bus come with?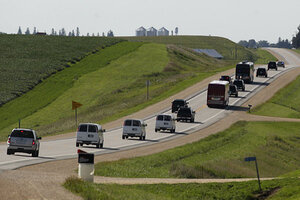 Carolyn Kaster/AP
President Barack Obama has logged more than 300 miles in the rural Midwest so far on what Republican frontrunner, Mitt Romney, is calling his "Magical Misery Tour." The three-day bus trip will take President Obama through Minnesota, Iowa and Illinois.
But many are more interested in the mystery than any economic misery. The mystery is of course what kind of bus $1.1 million buys.
The imposing Greyhound-sized bus is black, with blacked out windows and red and blue police lights.
The Secret Service refuses to give away many details on the design, but has said it has similar features to Obama's regular ride, The Beast. The tricked-out Cadillac known as The Beast looks like a regular limousine, but is built more like a tank.
If the Obama Bus is similar to The Beast, it will have tank-like armor and cutting edge technology. For example, The Beast has 8-inch thick armor-plated sides, special bulletproof glass, and Kevlar-reinforced tires. The tires are mounted on specially designed rims that can continue to drive even if the tires are missing.
Like The Beast, the bus is probably airtight, and likely has an advanced fire suppression system, oxygen tanks, and is built to withstand a chemical attack.
---