Rick Perry and 'treasonous': Is the folksy campaigner gaffe-prone?
(Read article summary)
Rick Perry scored high style marks in his initial campaign swing as a candidate for president. But a number of near-gaffes suggest he could be spending a lot of time doing damage control.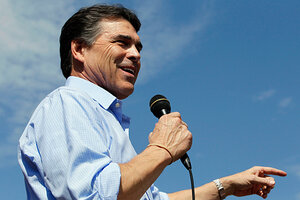 Charles Dharapak/AP
Rick Perry has proved he's a gifted campaigner. In his initial swing through Iowa as an affirmed presidential candidate he came early to events, stayed late, and generally seemed affable and approachable to many voters.
Reviews of his style were good, especially compared with those of or his conservative rival, Michele Bachmann.
But style is one thing and content another. The Texas governor made a number of remarks in Iowa that verge on gaffes – as in, he's going to have to continue to explain what he meant, to the point where he probably wishes he hadn't said them in the first place.
For instance, does he really think Ben Bernanke should be tried for treason?
That's perhaps the most over-the-top of Perry's Iowa remarks. At a meet-and-greet Monday night he said, referring to the Fed chief, "if this guy prints more money between now and the election, I don't know what y'all would do to him in Iowa, but we – we would treat him pretty ugly down in Texas. Printing more money to play politics at this particular time in American history is almost treacherous – or treasonous in my opinion."
---