Marco Rubio for vice president? He says no, and for good reason.
(Read article summary)
Sen. Marco Rubio would likely be a top choice for vice president for any Republican presidential candidate. But he said Thursday he will not accept any offer – and he probably means it.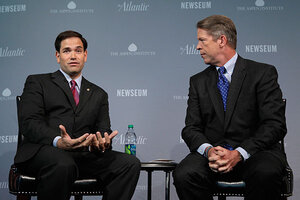 Yuri Gripas/Reuters
Marco Rubio, the Republican junior senator from Florida, is young, charismatic, and serious about policy. And given his Hispanic heritage, he could be pure gold on his party's presidential ticket.
That's why, even before he had won his Senate seat last November, he was already on the presumed short list for running mate of the eventual Republican presidential nominee in 2012. The GOP must do better among Hispanic voters to recapture the presidency; in 2008, President Obama won two-thirds of that fast-growing demographic group. What's more, Senator Rubio could help deliver Florida – the nation's biggest swing state – to the Republicans.
There's only one problem: Rubio really, truly does not seem to want to be on the ticket.
"I am not going to be the vice presidential nominee," Rubio said at the Washington Ideas Forum at the Newseum in Washington on Wednesday night. "The answer is going to be no."
We know, we know, that's what they all say. No one wants to run for vice president until, voilà, they've agreed to be on the ticket. Rubio has been asked plenty of times in the past about running for veep, and has always said "no." But now that he has the better part of a year as senator under his belt, it's possible to see where all this could be going.
---