President Obama's economic road show: Why the bus?
(Read article summary)
To promote his jobs bill, Obama is rolling down the highway this week in a $1.1 million black bus, code-named 'Stagecoach.' The bus, it seems, has some big assets over Air Force One or the traditional motorcade.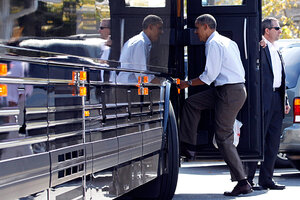 Jason Reed/Reuters
President Obama is on a bus tour of North Carolina and Virginia at the moment, in case you haven't heard. He's traveling through these politically important Southern states in an attempt to promote his jobs bill. But our question here is a simple one: Why the bus? What's with the wheels-on-the-open-road attitude?
Mr. Obama has already got his own airplane. Wouldn't that be an easier way to get around?
Well, yes, Air Force One might be quicker. It might be easier to protect, as well. When the president is aboard the federal government's new $1.1 million black bus, its Secret Service call sign is reportedly "Stagecoach," implying a vehicle rolling through dusty and slightly hostile territory as it travels from one town to the next.
But a bus has at least one big thing going for it, politically speaking. Two words: "rolling" and "advertisement."
Obama's bus cavalcade is a mobile campaign poster in a way that an airplane isn't. It's visible, it says "Obama," and its travels are covered by local media in a sort of breathless he's-almost-here manner that bypasses the snark of the national press.
Bill Clinton was a master of this genre. Remember the Clinton-Gore bus tour of '92 that was, as one New York Times reporter described it, "a free commercial on wheels"?
"Riding the bus may seem like a throwback, but Democrats say it is the wave of the future in Presidential campaigns. It is more successful than the conventional hopping from airport to local television studio, a technique perfected by the Republicans and copied by the Democrats to bypass the less flattering national press," wrote Times political correspondent Richard Berke back in August 1992.
---