Mitt Romney: why the primary calendar is against him, too
(Read article summary)
The presidential primary schedule is front-loaded with states that highlight Mitt Romney's weaknesses. The rest of the calendar looks more favorable, but he's got to make it that far.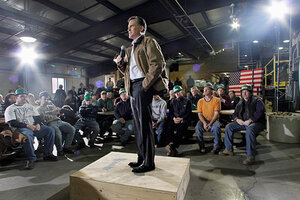 Jim Cole/AP
If the Republican presidential nomination comes down to a choice between Newt Gingrich and Mitt Romney, who does the primary calendar favor?
The short answer: Mr. Gingrich.
Last week, Gingrich told a crowd of South Carolina supporters, "I believe if I win in South Carolina, that in fact I will be the nominee." That primary (the third election, after the Iowa caucuses and New Hampshire's primary) is on Jan. 21. And the former House speaker is certainly favored: At this point, he beats Romney in the polls by 20 points in South Carolina.
Could it really be decided so quickly?
Going by the polls and conventional wisdom, Gingrich is likely to win Iowa, while Romney takes New Hampshire.
South Carolina and Florida are next, and Gingrich has a bit of a leg up as a Southerner. Florida, at least, would seem to offer Romney an opportunity – if only because it's an expensive state to advertise in, and Romney has a far deeper campaign war chest. But lately the polls are favoring Gingrich heavily there, too. Recent ones have Gingrich way ahead – by about 15 to 30 points, depending on the poll.
---