Iowa newspaper backs Mitt Romney? Weird GOP race gets a little weirder.
(Read article summary)
The Des Moines Register endorsing Mitt Romney even though Romney has essentially ignored the state? It's just the latest line in a bizarre GOP presidential primary season.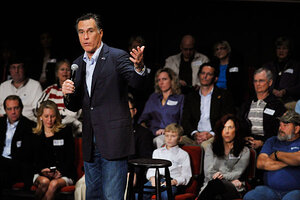 Rainier Ehrhardt/AP
In another sign that the GOP world has gone completely haywire (as if that was needed), the Des Moines Register has endorsed Mitt Romney for president.
This, in itself, is not terribly surprising. Former Massachusetts Governor Romney has long been seen as the safest, most-electable GOP pick among the mainstream media and establishment Republican circles.
Yet the endorsement also encourages a healthy shrug of the shoulders.
Iowa, after all, is supposed to be the American epicenter of retail politics. Perhaps more than any other state, Iowa likes to be wooed with bus tours and town halls and appearances at state fairs. This is because Iowa does not hold a primary, but caucuses – involved affairs that encourage only the most committed voters. It makes politics a personal affair in Iowa, and because the caucuses are first nominating process in the nation, candidates are often happy to oblige.
But Romney has spent comparatively little time there. Having been burned in Iowa in 2008, he's apparently been willing to concede it to rivals in order to focus on other states. And the Des Moines Register is endorsing that campaign?
It gets weirder.
---