Donald Trump as third-party candidate: Will he woo Americans Elect?
(Read article summary)
Donald Trump has dropped his Republican affiliation to clear the way for a potential third-party presidential bid. Americans Elect, the new online independent primary, is seeking a candidate. How Trump might fit the bill.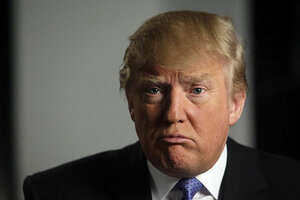 Richard Drew/AP/File
Given his not-too-shabby polling numbers, deep pockets, and new-found status as a registered independent, business mogul Donald Trump is in a decent position to launch a third-party run for president of the United States.
The snark on the street is that Mr. Trump, a temperamental fellow who has toggled his party affiliation before, dumped the Republican Party on Thursday in anger after only two in the large field of GOP presidential candidates agreed to attend a debate he was slated to moderate. Some Republican hopefuls had questioned whether it was ethical for Trump to host a debate while considering a potential presidential run himself.
A Trump spokesman, however, said his boss dropped out of the debate and changed his party affiliation "to preserve his right to run for president as an independent."
Is that even possible? Trump has already missed key primary deadlines, and he can't campaign until his TV show, "The Apprentice," ends its run in May, because of federal "equal time" laws.
The short answer: Pretty much anything is possible when it comes to The Donald.
One scenario is that Trump hooks up with Americans Elect, the online third-party group aiming to nominate its own presidential candidate next year. According to its website, it's well on its way to saving a spot on the general election ballot in all 50 states for its nominee.
Republican candidate Ron Paul is currently at the top of its tracking list, and former Louisiana Gov. Buddy Roemer is the only current Republican candidate who has openly flirted with an Americans Elect candidacy.
---