Virginia primary: Was it so hard for Perry and Gingrich to get on the ballot?
(Read article summary)
Newt Gingrich and Rick Perry failed to collect enough signatures to get on the primary ballot in Virginia. Yes, the state has tough rules, but other candidates have managed to register.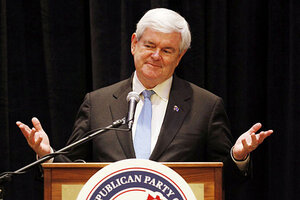 Mark Gormus/Richmond Times-Dispatch/AP
At first blush, the failure of Republican presidential contenders Newt Gingrich and Rick Perry to get on the primary ballot in Virginia suggests structural failures for both campaigns, but it also sheds light on the state's primary ballot requirements, which are the most stringent in the nation.
On Saturday, the Republican Party of Virginia issued tweets that said neither former House Speaker Gingrich nor Texas Governor Perry had obtained the 10,000 valid signatures required to get on the party's March 6 primary ballot.
The Gingrich campaign responded at first by saying it would launch a write-in campaign before learning that it is not allowed for presidential primaries in the state. National Campaign Director Michael Krull promised via Facebook on Saturday that the campaign "will make all other deadlines" and said it "will continue to learn and grow."
Mr. Krull also compared the situation to Pearl Harbor, saying: "we have experienced an unexpected setback, but we will regroup and refocus with increased determination, commitment and positive action."
The roadblock presents the other Republican candidates an opportunity to show both campaigns are "foolish and disorganized," says Carl Tobias, a University of Richmond law professor.
"It speaks volumes to me about the particular organizational skills of the candidates," Mr. Tobias told the Los Angeles Times Saturday. "It's hard for me to understand how they could miss this opportunity."
---