Rick Santorum compares gay marriage to polygamy. Will that help him with GOP?
(Read article summary)
Rick Santorum, who was speaking to college Republicans in New Hampshire, was loudly booed. While GOP voters have consistently opposed gay marriage, a majority of Americans now disagree.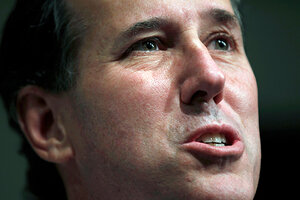 Matt Rourke/AP
Rick Santorum was booed yesterday after he compared gay marriage to polygamy, in case you haven't heard.
In a meeting with college Republicans in Concord, N.H., he got into a long back-and-forth with the crowd on this contentious social issue. At one point he said, "Are we saying everyone should have the right to marry? So anyone can marry anyone else? So anybody can marry several people?"
Some attendees didn't take this too well, and let Santorum know it. When he left he received some cheers, but they were drowned out by lingering boos.
Is Santorum's stance on gay marriage an impediment to his winning the nomination? He is adamantly in favor of defining "marriage" as something between a man and a woman, after all.
Well, in terms of his appeal to GOP voters, this position is probably a big plus. Republicans as a whole remain highly opposed to allowing such consecrated unions between members of the same sex. According to a Gallup poll from last May, only 28 percent of Republicans are in favor of gay marriage. That's a number that hasn't budged in years.
On this subject "Republicans in particular seem fixed in their opinions", wrote Gallup's chief editor, Frank Newport, at the time.
It's a different story when you look at the whole electorate, though. If Santorum does win the GOP nod this is an issue that could hurt him in the fall.
---