President Obama hosts White House Science Fair. Did anybody win?
(Read article summary)
If championship sports teams are invited to the White House, President Obama reasons, then so should winners of science fairs.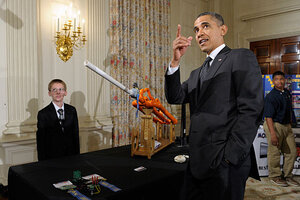 Susan Walsh/AP
President Obama hosted a White House Science Fair Tuesday, in case you haven't heard. From the Red Room to the State Dining Room, the executive mansion was full of those fold-out cardboard display boards we all remember from middle school. Next to them were groups of students eager to explain their projects to anyone who happened by.
No, no one studied whether watering bean sprouts with dishwater reduces unemployment. Wiseacre. No one really won, either. It wasn't a real science fair, in the sense that no ribbons were handed out. It was more of a get-together for kids who'd already won other science or technology competitions.
"If we invite the team that wins the Super Bowl to the White House, then we need to invite some science fair winners to the White House as well," said Obama.
Darn straight! Could Eli Manning whip up a study on the effect of gender on the Stroop effect? We think not. (Look it up.)
Anyway, some of the projects were incredibly ingenious. One of our favorites was the dissolvable sugar packets invented by 16-year old Hayley Hoverter from a business magnet high school in Los Angeles. Just toss them in your grandissimo hot beverage, and voila. No crumpled bits of paper to litter the floor.
"Tell me when I can buy stock," said Obama after viewing this concept.
We also liked the sanitizing lunchbox. It was the product of a couple of sixth graders from Kansas City, Missouri, named Ma'Kese Wesley and Isis Thompson. When the lunchbox closes, a UV light goes on and kills germs.
---