Is Ron Paul at turning point in campaign?
(Read article summary)
Ron Paul performed strongly in Tuesday night's Minnesota caucuses. But he also finished last in Colorado and Missouri, calling into question his caucus-centric campaign strategy.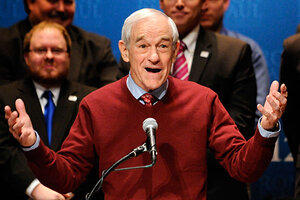 Jim Mone/AP
Is Ron Paul facing a crucial turning point in his campaign? It sure seems that way following the results of the Feb. 7 Minnesota and Colorado caucuses, and nonbinding Missouri primary.
Mr. Paul did OK on the night, don't get us wrong. In particular he performed strongly in Minnesota, where he finished second with 27 percent of the vote. He was the choice of about 13,000 Minnesota caucus attendees – an increase of some 3,000 over his support from four years ago. He beat front-runner Mitt Romney and expanded his demographic base of support. That was enough for the Washington Post's The Fix political blog to name him a winner.
"For a guy who had taken a step back in the last few contests, including finishing a disappointing third in Nevada – a state he really focused on – this was a good night," wrote The Fix's Aaron Blake.
Paul also received good news from a new national poll. A Reuters/Ipsos survey released Feb. 8 puts him in second place in the GOP race, with 21 percent of potential Republican voters. Mr. Romney leads the poll with a 29 percent result.
---