Ron Paul: Rick Santorum exit could provide opening
(Read article summary)
With Rick Santorum's exit Tuesday, the GOP race is down to three, and Ron Paul becomes Mitt Romney's biggest threat. Paul can't win, but he could stop Romney from beating Obama.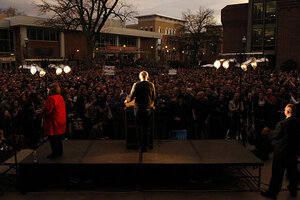 Frank Rebelo/CSU-Chico/AP
Ron Paul doesn't pull any punches in his latest ad, which began airing in Texas on Tuesday.
"Let's get this straight. We're debating between a big-spending, debt-ceiling-raising fiscal liberal, a moon-colony guy, a moderate from Massachusetts, or a Texan with a real plan to balance the budget," begins an announcer, speaking with a rapid Texas twang.
Images of his opponents accompany the slams against them, including Newt Gingrich wearing a space suit.
"Ron Paul isn't playing games," the voice-over continues – against a backdrop of an Etch-A-Sketch, a reference to the recent gaffe by the Romney campaign – before labeling Congressman Paul, at the end, a "big, bold Texan."
The message is plain: Paul isn't going anywhere, and with his home state of Texas – and its 152 delegates – up for grabs on May 29, he can still have an impact on the race. That might be even more true as of Tuesday, when Rick Santorum announced that he was suspending his campaign, saying the "race is over for me."
But with Mr. Santorum's exit virtually sealing the nomination for Mitt Romney, the question arises: How successful has he been in his second go-round as a presidential candidate?
---