Big losers in 'fiscal cliff' talks? Tea party, perhaps.
(Read article summary)
House Republicans say Election 2012 validated their tea party-backed revolution two years earlier. But two moves Monday suggest that House leaders are turning away from the movement.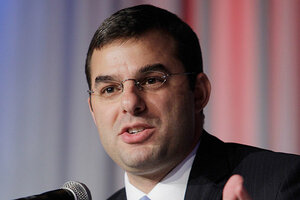 Carlos Osorio/AP/File
By the numbers, it would seem that Election 2012 didn't change much, with the White House and Congress remaining in the same hands. But Monday's Capitol Hill goings-on hinted at just how much Washington's terrain is shifting

The conservative wing of the GOP, which propelled the party to historic success in 2010, is being marginalized – leading to open calls for rebellion in some quarters.
First, there's a Republican moderation on taxes – accepting new revenues that are anathema to the tea party credo that gave Republicans control of the House two years ago. But more quietly, House leaders stripped plum committee assignments from three deeply conservative freshman lawmakers – assignments doled out with much fanfare in 2010 to show that party leadership would listen to its vocal and conservative bloc of freshman members.
Together, the two moves are evidence of the stresses within a Republican Party trying to reorient itself after an electoral drubbing in November
On Monday, House Republican leaders signed on to a plan that would raise $800 billion in taxes over a decade as part of a $2.2 trillion proposal to avert the impending "fiscal cliff." The plan did not raise tax rates but vowed to close tax loopholes, providing money that the federal government could use to pay down the deficit.
---