Gimme shelter! Your Rolling Stones guide to the 'fiscal cliff'
(Read article summary)
Yes, we know the fiscal cliff is not always easy to understand. But help is here. Mick Jagger and the music of Rolling Stones can explain it all – with satisfaction – in nine easy steps. Seriously.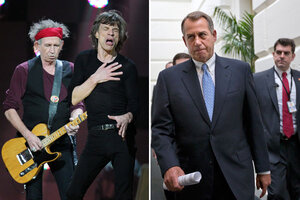 Dave Allocca/Starpix/AP and J. Scott Applewhite/AP
When the machinery of US politics isn't working quite the way anyone would like, sometimes it's helpful to step back and for some perspective. And sometimes music helps us do that.
With the Rolling Stones on a US tour, and with the future of US taxes and federal spending in doubt, here's a primer on the perilous political landscape known as the "fiscal cliff": Why the nation is in this mess, and how it might be solved.
It's probably unrealistic to expect that Mick Jagger will come to the rescue of Washington (emotionally or otherwise). But some of the music that he and his colleagues have made can at least offer a hummable sound track, and perhaps some practical insights, for the fiscal mess.
"I was born in a cross-fire hurricane" (from "Jumpin' Jack Flash," 1968)
How did this fiscal cliff originate, anyway? Basically, in a gathering storm of partisan disagreement. For years, Republicans in Congress have resisted the idea of tax hikes as a way to close federal deficits. And Democrats have resisted Republican ideas on reducing the size of government by curbing some types of federal spending.
Things came to a head in 2011, as politicians sought to grapple with their differences amid a climate of fast-rising national debt. They failed to reach a compromise, other than to agree that automatic spending cuts would kick in at the beginning of 2013. That, coupled with the scheduled expiration of the Bush tax cuts at the same time, sets the stage for the current reckoning – the pressure to enact a better fiscal plan.
---