Dancing troupe of middle-class taxpayers: Obama's 'fiscal cliff' trump card?
(Read article summary)
President Obama took to the stage Monday to press Congress not to allow taxes to go up on middle-class taxpayers – and he had a rambunctious group of them on hand to support him.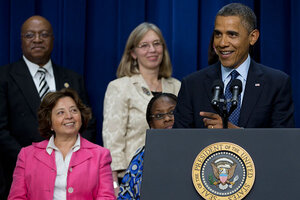 Carolyn Kaster/AP
The campaign is over, but when President Obama stepped on stage Monday to make a statement on fiscal cliff negotiations, it felt more like a pep rally than a sober policy update on an issue of global import.
The White House had packed the room, the South Court Auditorium in the Eisenhower Executive Office Building, with some 200 "middle-class taxpayers" – and rather rambunctious ones, at that. A handful stood behind Mr. Obama, the rest filled the auditorium's seats.
It was a veritable security blanket of middle-class taxpayers, there as a visual show of force for the president as he seeks to reach a deal with the Republicans to avert the tax hikes and deep spending cuts that automatically go into effect at midnight Monday. One said she was invited after she had "answered some questions" on the White House's My2K web page – named for the $2,000 that each middle-class household would save by not having its taxes go up.
Clearly, this event had been days in the making, and it was reminiscent of other middle-class focused events and travels Obama has had since he won reelection Nov. 6.
"Thank you for having us!" one attendee shouted after Obama welcomed the group.
The middle-class taxpayers cheered and stood when the president took the stage, called out to him as he spoke, and gave him another standing ovation when he finished. The event was mildly newsworthy: The president announced that a deal was "within sight, but it's not done."
---