Tom Davis says GOP has 50-50 chance to retake House. Senate 'not impossible'
Former Rep. Tom Davis rates the GOP's chances at retaking the House '50/50.' Retaking control of the Senate was 'not impossible,' he said at a Monitor Breakfast today.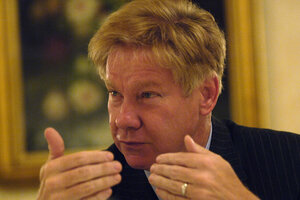 ANDY NELSON/ CHRISTIAN SCIENCE MONITOR/ FILE
Former Rep. Tom Davis, who now heads the moderate Republican Main Street Partnership, rates the GOP's chances of taking control of the House in 2010 as "50/50 anyway, at least."
Mr. Davis, who was elected to two terms as chair of the National Republican Congressional Committee, cautioned that a GOP victory in November's congressional elections "is far from done. Because you have to run races and you have to execute. But to date, [Republicans] have put in all the pieces you need to do in terms of recruitment," he said.
Kudos for the opposition
Speaking Monday at a Monitor-sponsored breakfast for reporters, Davis noted that Rep. Chris Van Hollen of Maryland, the Democratic Congressional Committee Chair, has done "a very good job" preparing his side. Davis said he saw a maximum gain of 50 to 55 seats in the House, with a floor of a 20-to-25 seat gain.
---