Mitch Daniels open to presidential run, despite '100 reasons' to pass
Indiana's Republican Gov. Mitch Daniels, asked about a presidential run in 2012, said, 'Can't you name 100 reasons that no sane person would do this?' Then he left the door open to the possibility.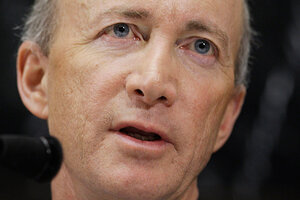 Darron Cummings/AP/File
Asked about the prospect of running for president in 2012, Indiana Gov. Mitch Daniels said, "Can't you name 100 reasons that no sane person would do this?"
But in the end, the Republican governor appears to be leaving the door ajar for a White House run, despite what he called "the savagery of our politics."
"The simple fact is, I don't plan to do it, I don't expect to do it, I really don't want to do it," Governor Daniels said at a Monitor-sponsored breakfast for reporters on Tuesday. In Washington parlance, that's considered short of an outright denial.
He initially opened the door to a presidential bid while attending the National Governors Association meeting in Washington over the weekend. As the Washington Post's Dan Balz notes, Daniels had earlier ruled out running for the White House. But he told Mr. Balz that after being questioned about a run by several people, "Just to get them off my back, I agreed to a number of people that I will now stay open to the idea."
---
Follow Stories Like This
Get the Monitor stories you care about delivered to your inbox.