Timothy Geithner: Obama will look at changing tax code next year
At a Monitor-sponsored breakfast for reporters Thursday, Treasury Secretary Timothy Geithner gave praise for Elizabeth Warren and discussed Obama administration plans for the estate tax and housing reform.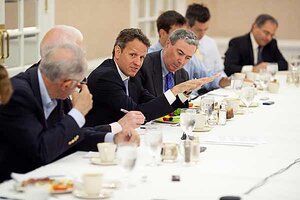 Michael Bonfigli/Special to The Christian Science Monitor
Elizabeth Warren may have received some important support from the Secretary of the Treasury Tim Geithner to run the new Consumer Financial Protection Bureau – an appointment that would be sure to be opposed by many Republicans.
In a Monitor sponsored breakfast for reporters, Mr. Geithner said the Harvard law professor, who was also an early and harsh critic of the financial institutions, would be "an enormously effective" leader of the institution which is part of the financial reform bill President Obama signed into law on Wednesday. He said Ms. Warren would bring "enormous credibility" as a critic of the credit boom that lead to the bailout of the banks.
"She pointed out the extent of things happening in the mortgage market and consumer credit markets that ultimately helped bring the economy to the edge of collapse," said Geithner.
However, the Treasury Secretary pointed out, the decision is up to President Obama and he said he had heard two other names – people who are very well qualified, he added – mentioned by his colleagues in the White House. And, he added, "I've heard others," but he declined to name them except to say "they're good."
In his wide-ranging discussion with reporters, Geithner said the administration would take a look at corporate taxes next year, again a move that would likely be opposed by many Republicans if it involves raising taxes.
---