GOP's Rep. Dave Camp envisions inclusive path to a fiscal 'bargain'
Dave Camp, House Ways and Means Committee chairman, said Thursday that involving more members of Congress in budgeting and deficit-cutting could yield, if not a 'grand bargain,' at least a modest deal.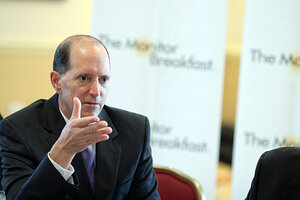 Michael Bonfigli/The Christian Science Monitor
The next round of "grand bargain" fiscal negotiations is going on right in front of the public's eyes.
In committee rooms across Capitol Hill, lawmakers are digging in on the details of tax reform and the federal budget, holding hearings and discussing issues from the tax code to changes in entitlement programs. It's a public airing of the debate over the federal government's taxing and spending priorities, a stark contrast to the behind-closed-doors negotiations among a select few that have marked recent attempts to amend fiscal policy in the United States.
Such a process, some leading lawmakers believe, could help Washington move toward a modest deal among the GOP-led House, the Democratic-led Senate, and President Obama to trim spending, tweak Social Security or Medicare, and head off yet another D.C.-driven crisis – such as a clenched-jaw trip to the fiscal brink this summer when Congress must again confront raising the national debt ceiling.

Rep. Dave Camp (R) of Michigan, chairman of the powerful House Ways and Means Committee, is one of those believers.
---