2010 census form: What if you don't mail it back?
Thursday is Census Day – the bureau's 'target date' for Americans to mail back their 2010 census form. But census takers won't start rounding up noncompliers for another month.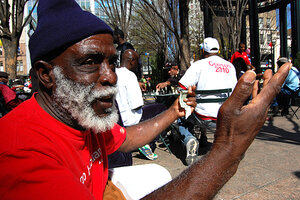 Patrik Jonsson
Say cheese, America.
After gearing up since March 15, the Census Bureau on Thursday takes the official "snapshot of America" – that constitutionally mandated decennial count of every American out there. So far, about half of all Americans have been tallied, and there's still another month to get the 2010 census form in the mail before census workers hit the streets.
Here in Atlanta, a "call to action" rally to round up lagging participation included a Trinidadian-born spoken-word poet, a high-pitched gospel singer, and a rocking marching band at Woodruff Park downtown. Only 40 percent of Atlantans have mailed in their forms so far.
Thursday's rallies in places like Atlanta, Los Angeles, and New York, on top of a census-sponsored website competition between regions to help boost participation rates, hint at the stark challenges facing the government's people-counters. Those challenges range from apathy, to fear, to outright rebellion.
"If you don't mail in the form, that means we'll have to come find you," sighs Pamela Page-Bellis, senior media specialist at the Atlanta Regional Census Center.
---