Arizona immigration law revised: backtracking or fine-tuning?
The need for changes to the controversial Arizona immigration law is evidence of its faults, critics say. Proponents say the substance of the law is unchanged.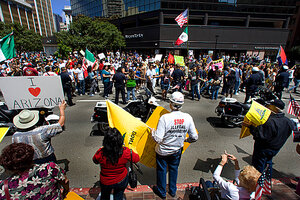 Nelvin C. Cepeda/AP
Arizona's controversial immigration law was revised over the weekend. The changes, specifying that police may only question the immigration status of those they suspect of being in the country illegally if they have already stopped them for a different reason, represent a state backtrack that critics are latching onto.
Since its April 24 signing, the law has prompted an avalanche of protests, three federal lawsuits, and the threat of boycotts. The revision will likely do little to assuage these concerns. Indeed, immigrant rights groups say it may even bring more concentrated action against the state.
"Now the police will have to think up a pretext for stopping you … such as 'your hedges are trimmed improperly,' or 'your taillight is out,' " says Rosalind Gold, a senior analyst for the National Association of Latino Elected Officials. "They are going to be really surprised when this doesn't calm anyone down. This is a political cartoonists's full employment act."
Supporters of the law insist such claims are exaggerated.
---