Detroit fights back against plummeting population
Detroit has lost one-fourth of its population since 2000. Mayor Dave Bing will fight the US Census Bureau's numbers, which are important in determining federal and state aid. Meanwhile, the city is working to attract new residents by concentrating services in recovering neighborhoods.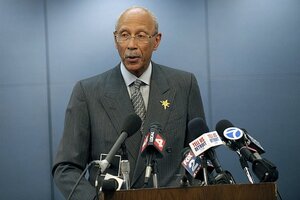 Clarence Tabb, Jr./Detroit News/AP
For Detroit, the past decade has been like New Orleans without Katrina. The population has plummeted. Thousands of homes stand vacant and deteriorating. And the city's economic base – and therefore its source of municipal revenues – is very shaky.
The US Census Bureau reported this week that Detroit's population has fallen by one-fourth since the last census in 2000 – down to 713,777, a drop of 238,270 residents. That's the lowest it's been since 1910, back when Henry Ford was cranking out Model T automobiles and the city's population was on the upswing, headed toward 1.8 million in 1950 when the "Motor City" was thriving.
There's more bad news in numbers: Nearly 23 percent of the city's housing stock is vacant. The last five years have seen an estimated 57,800 home foreclosures. And the number of manufacturing jobs in Michigan has dropped by some 400,000, many of those in the automotive industry.
RELATED: Recession over? Not in these four cities
For his part, Mayor Dave Bing pledges to fight the census numbers.
"Personally, I don't believe the number is accurate, and I don't believe it will stand up as we go through with our challenge," he said Tuesday in response to the latest bad news for his city. "The census has a history of undercounting residents in urban cities like Detroit. We were undercounted in 2000, and the census estimate was again revised in 2007."
---
Follow Stories Like This
Get the Monitor stories you care about delivered to your inbox.