Royal wedding mystery: In TiVo era, why do Americans want to watch it live?
Restaurants and caterers in the US are putting on live viewing parties early Friday morning, trusting in the power of the royal wedding as a can't-miss communal event.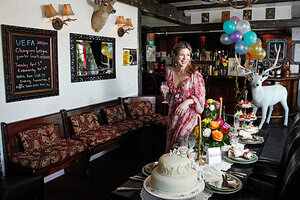 Damian Dovarganes/AP/file
Among the many curiosities that surround the wedding of Prince William and Kate Middleton Friday is a marvel of the current digital age: The world wants to watch it live.
"One thing I think is very interesting to me about all this is that everyone has DVRs and TiVos and recording devices of every kind, and yet they are all going to get up at four in the morning to watch this just as it happens," says Marcia Seligson, author of "Eternal Bliss Machine: America's Way of Wedding."
She then confesses: "I'm going to do the same thing. And I don't know why…. Why is that?"
Gordon Coonfield, a media expert at Villanova University, has an answer.
"People are really craving the shared experience of a communal ritual event," he says. "There aren't that many universal or relatively universal cultural rituals anymore … and here is one where everyone will stop whatever they are doing, and make sure they are watching as it happens. They'll get out of bed, pull out their cell phone, turn on the TV, find it on their computer … anything."
From London to Los Angeles, restaurants and caterers are banking on the power of that collective experience, planning live themed viewing events such as wedding parties, brunches, high-teas, and royal dinners.
---