'Transformers' vs. 'Larry Crowne': Machines trump movie stars at the metroplex
Blockbuster CGI movie 'Transformers: Dark of the Moon' has already taken in more money than new romantic comedy 'Larry Crowne' is likely to, as they battle for Fourth of July weekend moviegoers.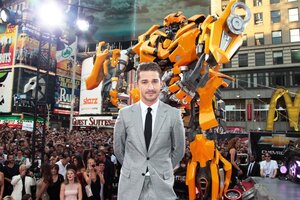 Dave Allocca / AP
It's holiday weekend smackdown time at the multiplex. With "Transformers: Dark of the Moon" in one corner and "Larry Crowne" in the other, it's officially machines versus movie stars. And from budgets to audience buzz, things are looking bleak for the flesh-and-blood icons.
It's all part of a longer-term waning of the movie star era, says Hollywood.com box office analyst Paul Dergarabedian.
"Movie stars are not driving films so much anymore," he says. "It's the concept, the special effects, and – more and more – the marketing departments of the film studio calling the shots."
The event has begun to replace the story or the star, says Dustin Morrow, an independent filmmaker and professor at Temple University in Philadelphia. "More money is spent on marketing than making films now, so the focus is the campaign rather than the film," he says.
Robots vs. romance: How do the movies stack up?
The third installment of the Michael Bay robot extravaganza, budgeted at roughly $200 million, towers over the $15 million, Tom Hanks-loves-Julia Roberts romantic comedy.
---