Abortion opponents have a new voice
In the often heated debate over abortion, a less confrontational, more pragmatic force is behind a record number of antiabortion laws and pro-choice's 'bad year.'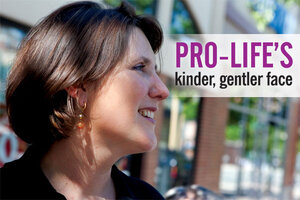 Michael Bonfigli photo/John Kehe illustration
With an easy laugh and ample charm, Charmaine Yoest doesn't at all appear to be Public Enemy No. 1 for the pro-abortion rights community. But the foundation of her rising influence – the accessibility of her approach – becomes clear when she settles in for an unexpectedly frank conversation about the stunning 2011 antiabortion legislative juggernaut that she has helped orchestrate.
This mother of five – who is not a physician, attorney, or lawmaker – has set the stage for sweeping antiabortion victories at the state level on the strength of her seeming candor, warmth, and camera-ready smile.
And so, she engages on the question of what animates her interest in advocacy like any smart girlfriend might. She says it was a miscarriage – which came early in her first pregnancy – that rocked her world. The intensity of her sadness caught her by surprise. It rained as she and her husband drove home from her physician's office, and Ms. Yoest says she felt that heaven wept with her. The experience made her wonder anew how anyone would opt to terminate a pregnancy voluntarily. And it stoked her already fervent belief that a society that presents abortion as an option is putting women in harm's way.
"We were so excited because it was my first pregnancy," she says. "I told everybody instantly. And within a few days I miscarried. And it was so awful, the whole physical process of going through that."
---