On eve of 9/11, what story is the media telling?
Media imagery can play a profound role in shaping the cultural memory of an event like 9/11, and some media experts worry that coverage could veer too far toward mythmaking.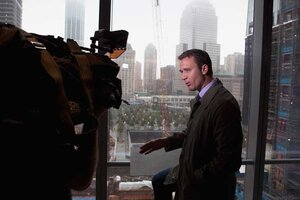 Lucas Jackson/REUTERS
In the hours following the attacks on the World Trade Center, CNN reporters in New York stood on a balcony of their bureau that afforded live shots of the twin towers in the background. They were images that would become a part of the iconography of the day: the stricken buildings smoldering and then falling in to ash.
But for Karen Curry, the network's New York bureau chief at the time, a different and far subtler image is what she remembers from that day. "I can't forget the photo of a parking lot at a train station filled with cars from commuters who were killed in the trade tower collapse," she says.
Today, as the 10th anniversary of 9/11 nears, some media analysts are asking the same question that Ms. Curry is asking: What story is the American media telling? Is it standard images of grieving relatives, somber ceremonies, and horrific historical footage? Or is it a more nuanced look at all the complex consequences of 9/11, from the moving tributes to the unvarnished brutality of war in Afghanistan?
Cultural critics have long bemoaned what they see as a dumbing down of the news into easily digestible montages and sound bites. But at such a profound moment, they say, the risks are greater. The media will play a primary role in shaping the cultural memory of 9/11, and mere mythmaking – distilling the events of the past 10 years into a simplistic and PG narrative – would be a disservice, many say.
---