How 9/11 has shaped a generation of Americans
The terrorist attacks have become this generation's Pearl Harbor – an epic event that has changed young peoples' view of the world and America's place in it.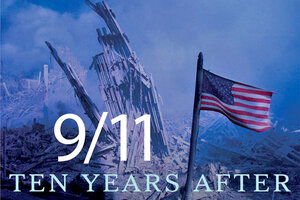 Reuters photo/John Kehe illustration
Nicolette Boehland was in creative writing class when she heard terrorists had struck the World Trade Center and the Pentagon. She and her fellow students got a brief glimpse of the smoke and flames before their teacher resumed instruction with a classic assignment: How did these events make them feel?
A sophomore at Lewis & Clark College in Portland, Ore., Ms. Boehland was thinking about becoming a writer. But she was far more interested in what was actually happening out there in the world than in her own momentary emotions.
She got up and walked out of class to resume following the tragic story line of Sept. 11. In that moment her life's direction changed. The next semester she enrolled in a course on Middle East politics. A year later she was studying Arabic at the American University in Cairo.
"It was not like I was going to put 9/11 in my life. It was more like I had to understand how I fit into 9/11 and understand what was happening first before I could process it internally," she says. "It was a real shocker that things that happen externally and world events can have a huge impact on you, and if you don't understand them you'll be lost in a fog and confused."
---