9/11 hijacking victim's family expanded, even without him
Lives Changed: A decade-long series of profiles of those most directly affected by the 9/11 attacks.
The Mladenik family has adopted two children since 9/11. Even they miss their dad, who died in the hijacking of American Airlines flight 11 before they arrived.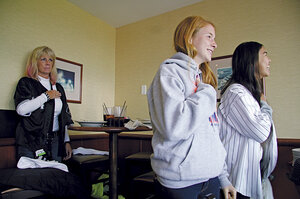 Mary Wiltenburg
The day her dad died, 1-year-old Yuan Qing Yu was waiting in an orphanage in Nanning, China. Jeff and Sue Mladenik, parents of four in Chicago's western suburbs, already considered the bright-eyed baby their daughter. As soon as they got her adoption referral, they planned to travel to Nanning Social Welfare Institute to bring her home. Jeff had already chosen her new name: Hannah.
Then, on Sept. 11, 2001, the software company executive boarded a plane that never landed. Among the unremarked tragedies of that morning: It left a twice-fatherless baby on the other side of the world.
9/11 changed the world in ways large and small. But most Americans see them only glancingly: at the airport, on the news.
RELATED: Part 1 of Sue Mladenik's 9/11 story – 2002
For the Mladeniks, and other relatives of those who died that day, the legacy of the attacks is personal.
---