9/11 racial profiling: Where civil rights met national security
Lives Changed: A decade-long series of stories on those most directly affected by the 9/11 attacks.
Cameran Sadeq lost the life he'd built in America when racial profiling landed him in months of detention. His civil rights were sacrificed for perceived national security.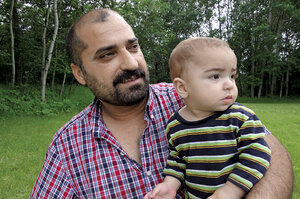 Clara Germani/The Christian Science Monitor
When the flutter of fingers over maroon prayer beads fails to expel intrusive memories, Cameran Sadeq seeks the high ground – literally. He heads for "Garbage Hill," a landfill that is one of the highest points of elevation in this prairie town.
"I feel good there," Mr. Sadeq explains about how an uncluttered horizon makes him feel free, and can even put him in mind of "my back home" in Kurdish Iraq. "My problem is the pressure of [being stuck] in one place too long and [the feeling that I] speak but no one is listening."
Feeling entrapped and unheard plagues this refugee in traffic jams, waiting rooms, and even in the concrete-block walls of his apartment as his five dark-eyed children play jungle gym on his legs.
One of hundreds of thousands of Iraqi Kurds who fled Saddam Hussein's genocidal attacks in the 1980s and '90s (think "Chemical Ali"), Sadeq spent his early adulthood trying to find a safe home but being shunted into tight physical and mental spaces. While living at a refugee camp in Syria, he played dangerous hide-and-seek with Syrian police who beat him before he escaped to Lebanon; from a Lebanese refugee camp he was smuggled aboard a cramped and rickety boat across the Mediterranean to Cyprus; and languishing in a Cyprus prison for his illegal entry, he climbed a tree and refused to come down until United Nations officials came to hear his claims of refugee status – claims that, once heard, won him refuge in the United States.
---