Census finds 1 in 8 Americans are seniors – an all-time high
Newly released 2010 Census figures show that seniors make up a larger share of the American population than ever before. The trend will only gain steam in the years ahead.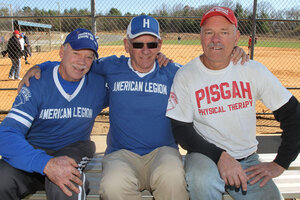 Mike Dirks/Times-News/AP
Senior citizens now represent a larger share of the US population than they have at any point in the nation's history, and with the first baby boomers hitting 65 this year, the trend is likely only to accelerate in the years ahead.
On April 1, 2010, some 40.3 million people age 65 and older lived in the United States – 13 percent of the total national population, according to a new brief by the Census Bureau. In 1900, by contrast, seniors made up only 4.1 percent of the US population.
Moreover, between 2000 and 2010, the number of senior citizens grew 15.1 percent, while the total US population grew 9.7 percent. That's a reversal of what happened between 1990 and 2000, when the growth of the older population was slower than the growth rate for the US population as a whole.
One factor bolstering the growth of seniors is the increased longevity of American men. In 2000, there were 70 men for every 100 women age 65 and over. In 2010, that number had risen to 76 men per 100 women.
The group of Americans age 85 to 94 also grew rapidly – from 3.9 million in 2000 to 5.1 million in 2010.
The graying of America will have a profound impact on the country, says William Frey, a demographer at the Brookings Institute in Washington.
"The fact that they're growing so rapidly and people are living longer brings up all kinds of issues of how we're going to deal with our older population in the future," Mr. Frey says. "It's kind of a ticking time bomb; 20 years down the road they're going to have other needs to be taken care of."
The 65- to 69-year-old age group is expected to grow most rapidly in the years ahead as more baby boomers hit that threshold. Over time, that could create serious financial stresses.
---