Toddlers to tweens: relearning how to play
Children's play is threatened, say experts who advise that kids – from toddlers to tweens – should be relearning how to play. Roughhousing and fantasy feed development.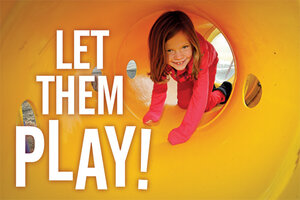 Photo: Tony Avelar/TCSM Illustration: John Kehe/Staff
Havely Taylor knows that her two children do not play the way she did when she was growing up.
When Ms. Taylor was a girl, in a leafy suburb of Birmingham, Ala., she climbed trees, played imaginary games with her friends, and transformed a hammock into a storm-tossed sea vessel. She even whittled bows and arrows from downed branches around the yard and had "wars" with friends – something she admits she'd probably freak out about if her children did it today.
"I mean, you could put an eye out like that," she says with a laugh.
Her children – Ava, age 12, and Henry, 8 – have had a different experience. They live in Baltimore, where Taylor works as an art teacher. Between school, homework, violin lessons, ice-skating, theater, and play dates, there is little time for the sort of freestyle play Taylor remembers. Besides, Taylor says, they live in the city, with a postage stamp of a backyard and the ever-present threat of urban danger.
"I was kind of afraid to let them go out unsupervised in Baltimore...," she says, of how she started down this path with the kids. "I'm really a protective mom. There wasn't much playing outside."
---