'Hunger Games' leads Hollywood's dramatic turnaround
'The Hunger Games' posted the third-best opening in US history, adding to Hollywood's surge after a poor 2011, which saw the worst ticket sales in 16 years.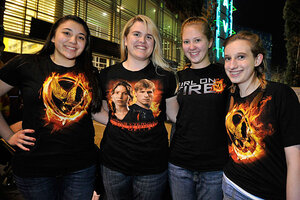 Max Faulkner/The Fort Worth Star-Telegram/AP
The $155 million opening-weekend haul for "The Hunger Games" continues Hollywood's strong rebound from 2011, its worst year for ticket sales since 1995.
On one hand, the movie is offering confirmation that the "Harry Potter" model – building blockbusters from teen bestsellers – is perhaps the surest bet in the industry today.
Yet perhaps even more than the average blockbuster, the success of "The Hunger Games" is giving some film buffs pause. The studio behind the film, Lionsgate, has been a maker of more artistic fare, and cultural critics wonder if the studio's ideals will be swayed by such a flood of cash.
"The Hunger Games" posted the No. 3 opening weekend in US history, behind only "Harry Potter and the Dealthly Hallows, Part 2" ($169 million) and "The Dark Knight" ($158 million).
Even without "The Hunger Games," box office is up 16 percent over the same period last year, thanks to a string of pleasant surprises, including "The Vow" and "Dr. Seuss' The Lorax." With "The Hunger Games," box office is up 22 percent.
The reversal is "the most dynamic turnaround I've ever seen," says Paul Degarabedian, president of Hollywood.com's box office division.
And it points to a strong summer. "Blockbusters get people to the theatres where they see more ads and trailers for what's coming up, and they get excited again," he says. "Last year was the quintessential opposite of that. Momentum was lost completely."
The slate of films beginning May 1 includes "The Amazing Spiderman," "The Dark Knight Rises," "Men in Black 3," and "The Avengers."
---