Did Los Angeles Times make right call on photos of dead Afghans?
The Los Angeles Times published graphic photos of US soldiers posing with dead Afghan insurgents. Even media analysts don't agree on whether it was the right thing to do.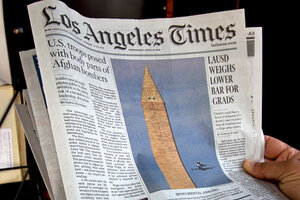 Damian Dovarganes/AP
Photos released Wednesday by the Los Angeles Times – showing smiling US troops in Afghanistan posing with the remains of suicide bombers – are reigniting a debate about the ethics of publishing such photos during wartime.
The question: What is the newspaper's responsibility to national security weighed against informing the public?
US military officials asked the newspaper not to publish any of the photos, concerned about the possibility of "inciting violence and perhaps causing needless casualties" among US troops abroad, Pentagon spokesman Capt. John Kirby told the Times.
Times Editor Davan Maharaj responded that the photos "fulfill our obligation to readers to report vigorously and impartially on all aspects of the American mission in Afghanistan, including the allegation that the images reflect a breakdown in unit discipline that was endangering US troops."
Interviews with media experts and ethicists show that editors faced with such decisions are in a tough, and far from clear position. This is partly because of the graphic nature of the photos.
Two of 18 received photos are published in Wednesday's newspaper, and others are only described. A Page 1 photo shows the eyes-open head of a deceased Afghan insurgent, and one on Page 4 shows soldiers of the 4th brigade of the Army's 82nd Airborne Division – along with Afghan police – holding up the severed legs of a corpse. US soldiers are grinning in both photos.
Not shown are pictures of two soldiers who reportedly pose holding a dead man's hand with the middle finger raised, and another with a soldier clutching the hand of a bearded corpse next to other remains where someone placed an unofficial platoon patch reading "Zombie Hunter."
---