Gender pay gap is eroding, especially among younger women, US data show
Women are slowly making inroads in the gender pay gap. Recent Bureau of Labor Statistics data for full-time workers show women earn 82 percent as much as men, up from 64 percent in 1980.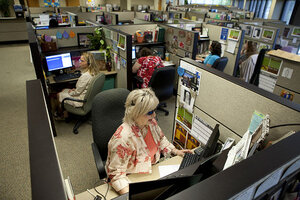 Melanie Stetson Freeman/Staff
Women are, slowly, making inroads in closing the gender pay gap – an issue that got some attention in the presidential campaign this fall, as President Obama touted his signing of the Lilly Ledbetter Fair Pay Act, and both candidates answered a question on the topic in the town-hall debate.
According to the latest numbers released by the Bureau of Labor Statistics (BLS) last week, based on the weekly earnings of full-time wage and salary workers, women now earn 82 percent as much as men – up from 64 percent in 1980.
In recent discussions of the wage gap, a different figure – 77 percent – has been widely cited. That figure is also accurate; but the measure, which comes out in the spring, looks at median annual earnings for full-time year-round workers; it includes self-employed workers, which the weekly numbers exclude, and excludes seasonal workers. The figures are based on the same raw BLS data.
Most notably, in the BLS numbers released the day after Thanksgiving, the earnings of women between the ages of 25 and 34 have shot up fairly substantially over the past 32 years, from 69 percent of men's earnings in 1980 to 92 percent in 2011.
The gap still widens, though, as women age – a sign that while many young women enter the workforce on a more equal playing field with their male counterparts, they still tend to fall behind on income as they age.
---