Video games and shooting: Is the NRA right?
The NRA says the problem with mass shootings like the recent one at the Sandy Hook grade school in Connecticut is not too many unregulated guns but violent video games. But most academic and government research does not support the gun lobby's charge.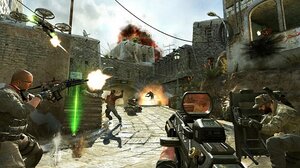 Activision/AP
After a week of silence following the Sandy Hook school shooting that killed 20 first graders and six staff in Newtown, Conn., the National Rifle Association blamed the entertainment industry – specifically the producers of violent video games for inciting what has become a pattern of gun violence in the United States.
In describing the industry, NRA Vice President Wayne LaPierre said, "There exists in this country a callous, corrupt and corrupting shadow industry that sells, and sows, violence against its own people."
Mr. LaPierre faulted the news media for failing to report on "vicious, violent video games" such as "Grand Theft Auto," "Mortal Kombat," and "Splatterhouse" as egregious examples. He also singled out "Kindergarten Killer," a free, fairly obscure online game.
"How come my research department could find it and all of yours either couldn't or didn't want anyone to know you had found it?" he asked reporters.
Recommended: Second Amendment Quiz
Most academic research, as well as studies by the FBI and the US Secret Service, examining the link between violent video games and incident of violence does not support the gun lobby's charge.
---