Gun owners talk: Self protection is more complex than 'stand and fight'
Gun owners – including one who is a shooting victim and one who killed in self defense – talk about the logic of their tough decision to carry a gun for self protection: Killing isn't always their first goal. Experts stress the complex responsibility involved in carrying a gun.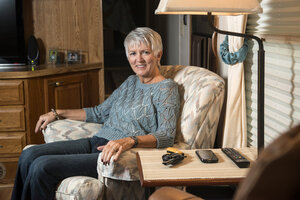 Joseph Gamble/Special to The Christian Science Monitor
When hospital administrator Margaret Stroup heard the first eruptions of gunfire echoing down the scrubbed hallway outside her office, she knew immediately she was a target.
Armed with a semiautomatic rifle and pistol, a recently fired Soldotna, Alaska, hospital employee was hunting down five former bosses. In the chaos, as her former employee killed one of them on his way to her, Ms. Stroup felt drained of power: Normally a strong, take-charge woman, she felt a "cold paralysis" grip her.
"I knew I couldn't run ... there was no defense ... no way I could get away from that gun," she says of those minutes trapped in her office. She dropped behind her desk. After the gunman blasted through her door, she says, he came around the desk and pointed his rifle inches from her face to shoot.
But a bit of that strong Margaret Stroup was present: She swatted the barrel of the rifle as it went off, deflecting two rounds: one shot through her right breast and the other into her abdomen. She felt the ripple of the impact "vibration," but no pain; so, she says, after he left, "I got up and walked across the hall, and one of my staff got me to the emergency room."
After four years of healing – from the wounds themselves, post-traumatic stress, and a legal battle for compensation – Stroup still has trouble venturing out alone; much frightens her, from noises to crowds. "I'm afraid of someone taking out a gun," she says.
But she describes ways she's dismantling the fear, and one step Stroup has taken may seem counterintuitive: She bought a gun.
Even though the sight of a gun after the shooting made her shake, she now hopes that very thing will bring a peace of mind that will allow her to go out to a matinee with her grandchildren or to the grocery store.
"If I had had a gun, I would not have gotten shot. I don't think I would have frozen. I think the training to use that gun would have overrode the fear," Stroup says.
---