Shain Gandee and the appeal of the 'reckless redneck'
The death 'Buckwild' star Shain Gandee will confirm backwoods stereotypes for some, but it also points to such shows' deeper appeal – a glimpse into a life lived with less anxiety.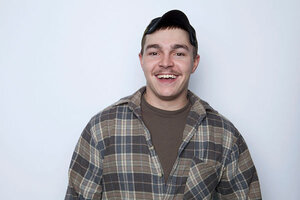 Amy Sussman/Invision/AP/File
MTV has stopped production of its wildly popular "Buckwild" reality TV show after one of its carefree stars, Shain Gandee, was killed in a freak off-road accident, along with two other men.
The tragedy instantly sparked questions about voyeurism in pop culture and the dangers that exist between the words "reality" and "TV." Most specifically, did the push for provocative TV featuring reckless and stunt-prone West Virginia 20-somethings fuel Mr. Gandee's abandon away from the cameras?
So far, the answer to that question isn't known, though MTV is picking up Gandee's funeral costs. But those who knew Gandee describe him as one of the most genuine on the show, whose actual personality and behavior didn't change too much when the cameras rolled. The men died of carbon monoxide poisoning after getting their truck stuck in a mud hole in a late-night adventure.
"Buckwild" was already controversial before Gandee's death, particularly for its portrayal of young self-described American rednecks and questions about whether the show was intended strictly to make fun of rural Americans – a sort of "hillbilly-sploitation." It also had its share of real controversy. Recently, Gandee's co-star, Salwa Amin, was arrested on drug charges involving heroin and meth.
Down to earth and slightly off-kilter, the crew escaped rural boredom by spinning wheels in mudholes and, occasionally, making swimming pools out of dump truck beds. Their alcohol-fueled love fumblings added to a sense of parody, but their overall travails and search for good times seemed to act as a link between an increasingly urbanized America and its agrarian and pioneer roots.
---