US poverty rate steady at 15 percent, but 'lower class' is booming
The recession-induced slide in income and rise in poverty appear to have flattened out, new census data show. Still, an 'extraordinary' share of Americans now describe themselves as 'lower class.'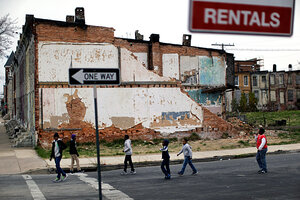 Patrick Semansky/AP/File
Poorer Americans were no better off – and no worse off – in 2012 than in 2011, compared with their richer neighbors, the Census Bureau reported Tuesday. The news may indicate that struggling workers and families whose fortunes have plummeted since the Great Recession have at last hit a financial plateau.
But if the slide into poverty has finally stalled out, it appears to have left its mark on the psyches of many American workers. The share of those who identify themselves as "lower class" – at 8.4 percent – now stands at its highest level in four decades, according to separate data released this week from the long-running General Social Survey (GSS). Just as surprising, the share of college graduates who describe themselves as lower class has jumped from 2.6 percent in 2002 to 5.8 percent in 2012.
Sociologists say the true percentage of the lower class may be as high as 20 percent, and primarily includes people who hold low-rung service jobs or are chronically unemployed.
But they are puzzled as to why more Americans are calling themselves "lower class," a derogatory term that until recently was used so seldom that economists routinely lumped it in with the more respectable "working class." The jump in lower class self-identification is "extraordinary," Dennis Gilbert of Hamilton College in New York, who studies class structures, writes in an e-mail.
---