Super Bowl: Time to rename it the Super Throw?
Super Bowl XLIV will be one of the closest, highest-scoring Super Bowls ever, given the Saints' and Colts' air games.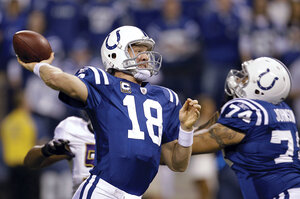 The National Football League says Sunday's game will be Super Bowl XLIV. But it could also easily be Super Bowl I.
The Feb. 7 game between the Indianapolis Colts and New Orleans Saints is, perhaps, the clearest statement yet of how completely the forward pass has transformed professional football.
The game is no longer built upon grinding defense and punishing rushing attacks, and the Saints and Colts typify this new NFL, which more closely resembles a frequent-flier program of pass first, pass often. Sunday's game exemplifies what the Super Bowl has now become: not a slog in the trenches but a glamour matchup that holds the promise of in-game pyrotechnics.
By the measure of the NFL's passer rating, the contest between the Colts' Peyton Manning and the Saints' Drew Brees will be the second best quarterback matchup in Super Bowl history, trailing only the Joe Montana-Dan Marino matchup of 1985.
For their part, oddsmakers suggest this will be one of the closest, highest-scoring Super Bowls ever. It is the first in 16 years to feature the two best regular-season teams.
In many ways, the Colts and Saints appear to be similar. Most obviously, they share an array of offensive weapons that would make the Pentagon jealous. Yet beneath that broad similarity lie two teams that will try to win the game in opposite ways.
---